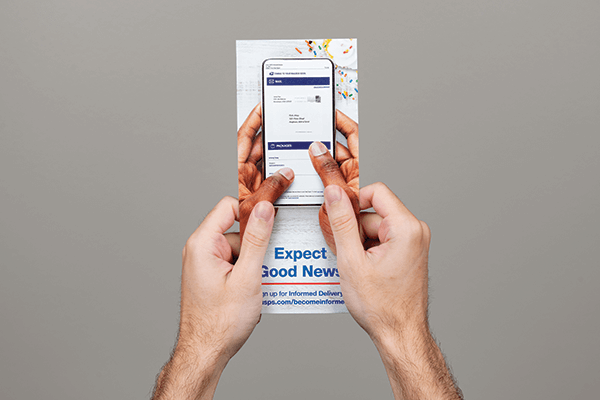 A recent survey of millennials found that 3 out of 4 participants indicated that they find value in and look forward to receiving print mail. Given the importance of this demographic in a variety of industries, it's no surprise that more marketers are incorporating direct mail campaigns into their overall marketing and communication strategy.
But for direct mail to truly drive results compared with digital communication channels like email or social media, marketers need to think more strategically about the tools they can use to reach highly targeted audiences.
The Informed Delivery program from the USPS can help marketers create more effective direct mail campaigns that integrate digital components to better engage your ideal customer, and working with a strategic print partner that understands how to leverage Informed Delivery is the first step in taking advantage of the benefits this program can provide.
Here, we'll take a brief look at what Informed Delivery is and how it works, and then we'll explain how working with a strategic print partner can help you print direct mail pieces that really hit home.
What is USPS Informed Delivery?
Informed Delivery is a free service from USPS that shows registered recipients preview images of incoming mail, as well as status updates about incoming and outbound packages. With this service, users can see these notifications in a morning Daily Digest email, or at any time via their personal dashboard from a phone, computer, or the USPS Mobile® app.
Though Informed Delivery is its own unique offering, it's also part of the USPS Promotions and Incentive Programs, an annual group of postage reduction opportunities for direct mail pieces that incorporate new digital technology in order to make direct mailers more dynamic and engaging. In fact, our guide has everything you need to know about this year's programs, eligibility requirements, and registration deadlines.
The ability to preview direct mail pieces has demonstrated an increased likelihood that mailers are opened and engaged with, and, what's more, Informed Delivery allows marketers to use its incoming mail notifications via email, the online dashboard, or the USPS app to position special offers or additional content using digital integrations like quick response (QR) codes.
With Informed Delivery, marketers can combine the power and persuasion of print with increased digital real estate to better communicate their brands' identity and value, and to also create a more robust user experience that takes a multichannel approach to customer communication and interaction.
How the right print partner can help you experience the benefits of Informed Delivery
Informed Delivery can be a powerful tool not only in creating more and higher-quality engagement with your target audience, but it can also help increase the ROI of your direct mail campaigns via increased response rates. What's more, the digital components can also provide more detailed performance data in the form of website views, video views, and page clicks, and these can help you better understand how your messaging is resonating with potential customers.
Pairing this tool with the knowledge and expertise of a strategic print partner can help you make the most of direct mail in a couple of interesting ways, such as:
Prioritizing the power of personalization. Today's consumers expect high degrees of personalization in how they interact with brands, and creating personalized direct mailers can increase the chance your target audience converts on your call-to-action (CTA). A digital print platform can utilize a variety of customer data to create personalized, custom messaging that speaks directly to the needs or challenges your customer faces. A strategic print partner can also harness the power of

print automation to integrate with your customer relationship management (CRM) tool

to help create a centralized control center to manage and execute mailers using a variety of data streams.
Incorporating digital components for a multichannel marketing approach. One of the biggest advantages of Informed Delivery is creating a sense of exclusivity in terms of special offers or promotions only available to those in the Informed Delivery club. Using the digital previews of incoming mail to spotlight QR codes, URLs, or custom offer codes as a way to bridge the digital and print space helps create a multichannel marketing approach that engages your target audience via multiple touchpoints.
Using direct mail to help nurture online engagement. Digital marketing channels are often used in service of print — for example, a customer acts on the CTA of your mailer to book a meeting with your sales team, and they then receive a variety of additional content via their email. Informed Delivery can help you use direct mail to nurture online engagement. For instance, when your customer completes an online purchase, you can then send them a postcard positioning a special offer as a thank you for their business. With Informed Delivery, that customer will receive a digital notification that the postcard is en route, and you can also infuse that preview with additional content to cross-sell or upsell that customer on additional products.
But this is just the start of how a strategic print partner can help you optimize the potential Informed Delivery provides, both in terms of reducing your postage costs and creating more effective direct mail campaigns that get results. Quantum Group has decades of experience in helping brands create high-quality direct mailers that help maximize your investment in print.
Download our USPS Promotions Guide, or learn more about our direct mail and print marketing automation capabilities.