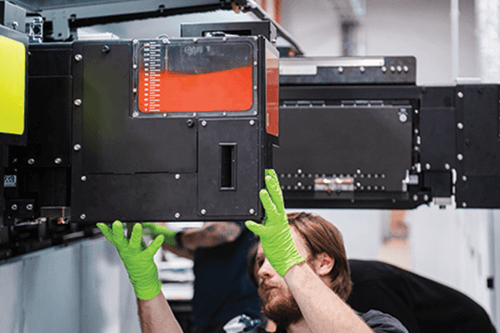 Sustainability in print means something drastically different today than it did just a few years ago. What this difference looks like is exactly what Quantum Group's Supply Chain Manager Paul Fillmore found himself wrestling with in the latest issue of LeadingPRINT.
"If you had asked me that question five or ten years ago, I would have told you to send out a FSC Certification," Paul writes. "Along with that, I could print a recycled logo bug. If I had a thunderbolt moment, I could have gone even further: paper manufactured with wind power, purchasing carbon offset credits, and even having the mill make paper using waste from Quantum in a semi-closed loop style of process."
Fast forward to today, and while some of these avenues are still relevant and beneficial, thinking about sustainability in print has shifted, both in the print technology and the strategic frameworks that marketers have in their arsenal.
Let's look at how to increase the sustainability of your print marketing in ways that are better suited for where the print industry is at today — and for what may be on the horizon.
Think about ink (technology)
But perhaps not in the way that you're thinking. There was a time in the not too distant past where thinking sustainably about ink meant turning to natural or organic inks, or those where the ingredients were sourced using sustainable practices. The challenge with using these kinds of inks was that they often lacked quality or put significant limitations on the kinds of substrates on which companies could print — coated versus uncoated or treated versus untreated.
However, ink technology has accelerated rapidly, to the point where the amount of ink necessary to create vibrant images or crisp text is significantly reduced. For example, digital ink technology reduces the amount of press time required to create the same color quality and stability as found with more conventional inks.
But the real game-changer with ink technology is in the form of NanoInk® technology. NanoInk colorants are supplied as concentrates and are mixed with water onsite. This advancement in ink technology avoids the unnecessary shipping of water, and saves space and weight while shipping, which helps decrease your carbon footprint and reduce the impact on our planet.
Plus, because NanoInk uses pigment particles that have a significantly smaller diameter than other inks, you can achieve more brilliant colors with less pigment use.
Choose recycled substrates — any recycled substrate
It goes without saying at this point that using recycled paper made from post-consumer waste (PCW) helps preserve our forests and makes you less reliant on the production of virgin fibers. However, offset and even some digital presses lacked compatibility with the thickness of some recycled substrates, and the potential for bleed made it challenging to print full-color marketing materials or use special finishings for an added pop.
Nanographic Printing® uses ultra-small particles of ink to consistently produce extremely round dots with super-sharp edges, high optical uniformity, and consistent density. During printing, ultra-small particles of wet ink are jetted onto a conveyor blanket. The ink droplets are then dried on that blanket, and the dry image is then transferred to the paper.
This process allows you to print on any off-the-shelf paper or paperboard, regardless of the percentage of post-consumer waste, or whether the sheet is coated, uncoated, treated, or untreated.
Printing on any off-the-shelf recycled substrates liberates you from supply chain disruptions of product availability, and it also gives you the ability to be more selective in terms of the print media you specify and supplier you partner with, particularly when it comes to working with a paper producer that more closely aligns with your company's values and your customers' needs.
Print only what you need
With traditional offset presses, the name of the game was volume. Companies had to print large quantities in order to hit an economy of scale that made print marketing materials worth the time and cost investment — this was particularly true for direct mail campaigns or postcard mailing programs.
The trouble with printing such big quantities is that marketers often had a large surplus of extra pieces, which resulted in significant waste in terms of paper stock and ink, to say nothing of the increased carbon footprint from shipping or storing unnecessary print materials.
With on-demand digital print technology, marketers can print only what they need — full-color short runs on a variety of substrates, and with a range of specialty inks and finishes. Not only does this reduce your use of sheets, inks, and energy required for large orders, it also helps you decrease print costs and virtually eliminate the cost and physical footprint necessary to store unused pieces.
Outside of sustainability, this allows marketers to better optimize their print marketing expenses, and on-demand print also helps them think in a more targeted way about their print campaigns.
Think more strategically about your print marketing
You may not think a more strategic approach to your print marketing has much to do with sustainability, but hang with us for a moment.
Alongside the ability to print the exact quantities you need, digital on-demand presses use a data-driven approach to print that helps you incorporate a variety of customer information, preferences, and insight into the design of your piece. Using variable data printing (VDP), digital on-demand presses can help you create personalized messaging specifically targeted to custom audiences — which, in applications like direct mail, can drive increased engagement and response rates.
How do data-driven print communications help you increase sustainability?
With a more strategic, personalized approach, you're only printing marketing materials that have a high percentage of success as opposed to executing multiple campaigns or print runs where the target audience is fuzzy and the right messaging is not clear. And in turn, this helps reduce the number of wasted sheets you print and the environmental impact of shipping materials from Point A to Point B.
Are you ready to get started on a more sustainable approach to your print marketing? Learn more about how Quantum Group's approach to print can help.