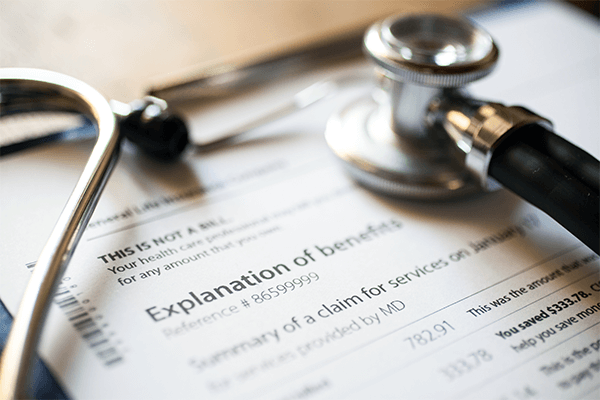 It would be an understatement to say that the healthcare industry is invested in print. For example, research shows that the average 1,500-bed hospital prints more than 8 million pages per month. What's more, even in the age of paperless billing and electronic health records (EHRs), more than 50% of consumers still prefer to receive print copies of critical customer communications like billing statements, account summaries, and medical records.
The challenge for healthcare companies is facilitating large quantities of regular print communications that are efficient, cost-effective, and compliant with patient privacy regulations and requirements. Plus, like so many other industries, the healthcare space is embracing a more sustainable business model, and eco-friendly approaches to print are quickly becoming a must-have.
Integrating an automated print platform can help healthcare companies optimize their print processes to maximize the ROI of their investment in print, and also provide print communications that are more useful to customers. Here, we'll look at a couple of ways healthcare companies can harness the power and efficiency of print automation.
Automated print helps healthcare companies print more strategic communications faster
A large percentage of all the print communications in the healthcare industry are time-sensitive. For example, documents like an explanation of benefits (EOB), laboratory test results, or a breakdown of medical services rendered need to be printed and mailed quickly in order to provide value to the customer — and also remain compliant with regulations about the timeliness of critical information.
An automated print platform can integrate with your customer relationship management (CRM) or enterprise resource planning platform (ERP) to provide on-demand print capability that is triggered by any number of events, from a customer enrolling in a new program online to a patient scheduling an appointment with a new or referred provider.
The data-driven approach of print automation helps healthcare companies use variable data printing (VDP) to create highly-targeted, customized print communications that help create a more memorable connection with their audiences.
For example, if a customer signs up for an annual wellness program, print automation can help you create a personalized brochure about the program complete with rewards and offers based on any relevant consumer information you have in your database. Or, in the case of account summaries and invoicing, an automated print platform can leverage customer insights to cross-sell or upsell customers on products or services they may be interested in.
In each of these real-world scenarios, a print automation platform helps healthcare companies take a more strategic approach to their print communications with an emphasis on speed and relevant, targeted messaging.
Automated print helps make customer communications in the healthcare industry more efficient
The healthcare industry is a document-intensive space where privacy and compliance are key. Prioritizing print accuracy and efficiency are just part of the job, and an automated print platform can help healthcare companies answer the call for both of these mission-critical tasks.
A print automation platform provides superior transparency into each step of the preproduction and print process to create a more connected workflow where data entry or processing errors are minimized.
With a strategic print automation platform, healthcare companies can print customer communications knowing their consumer data is accurate and protected. The accuracy and real-time visibility of automated print also helps companies avoid the potential for costly and time-intensive reprints that can significantly reduce the ROI of your print budget.
Another challenge for healthcare companies that print automation helps solve is the need to print large quantities continuously without production stoppages. What's more, these large print runs may require the capacity to print multiple jobs simultaneously using different streams of customer data.
Automated print gives healthcare companies the flexibility to execute several different print jobs on a 24/7 basis without process disruptions. This enhanced level of productivity helps healthcare companies reduce lead time and avoid costly bottlenecks in production, and it also provides the flexibility to scale print communications based on a variety of factors.
For instance, if changes are made to regulatory standards that must be reflected in the messaging of your customer communications, an integrated print program provides the capability to update files in real-time without press stoppages or printing copies with inaccurate information. This adaptability helps you reduce waste and make better use of resources like ink and paper.
With the right print automation platform, healthcare companies can optimize the accuracy, efficiency, and productivity of their customer communications. Quantum Group is the print automation partner with the insight and experience to help healthcare companies make the most of their print communications.
Learn more about how Quantum's experience and knowledge in print marketing automation and software integration can help you streamline your customer communications.