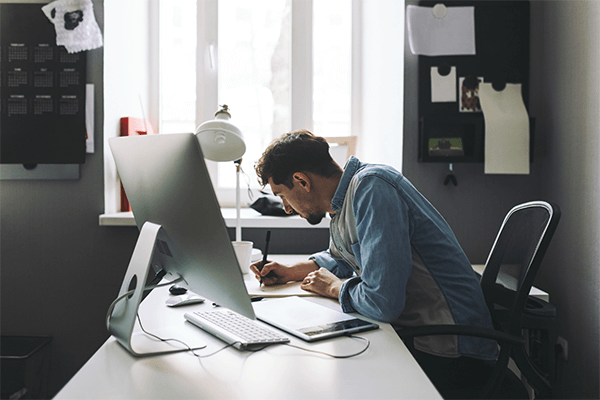 One of the first questions B2B marketers have when considering a direct mail postcard campaign is whether such a piece can be effective in getting customers to convert. While this skepticism may have been warranted in the past, as digital marketing tools like email have risen to prominence, they have also become more congested. This, along with the continued decline of email delivery and response rates in the B2B space, has prompted marketers to revisit postcard mailing programs as a viable way to drive conversions.
For example, a recent USPS report found that about six out of ten millennials are likely to complete a purchase after receiving a direct mail piece. Combine this with the ability of on-demand print technology to make printing postcards more efficient and cost-effective, and marketers now have a valuable tool for cutting through communication barriers.
With the idea of postcard mailing campaigns back on the table, let's look at a couple of strategies for designing a postcard that can generate healthy conversion rates.
Size matters
Postcards are usually the first kind of print collateral that springs to mind when marketers are looking to leverage the power of print in their marketing communications. This means that something as simple as the size of your postcard matters in not only grabbing the attention of your customer, but also in giving you a larger canvas to incorporate eye-catching visuals and intriguing, informative copy.
There is a variety of postcard sizes to choose from that can be delivered and processed by the USPS, but some of the more common dimensions include:
6" x 4.25" (classic)
9' x 4"'
7" x 5"
9" x 6" (oversized)
11" x 6" (jumbo)
The size of your postcard can also impact a variety of other design and print decisions including the type of substrate, specialty inks or finishes, and whether or not to incorporate an envelope or some kind of outer packaging. But the main thing to consider with postcard size is that you're not limited to the standard 6" x 4.25" that is quite common in the B2B space. Thinking more creatively about size can help you design a more dynamic postcard that encourages your customer to interact and convert.
Make your CTA clear and useful
The call-to-action (CTA) is essentially the lifeblood of your postcard, and as such you want to make sure your CTA is clear about the desired action you want the user to take. You also want to make sure your CTA is relevant to the content of your postcard — if the goal of your postcard is to get your customer to convert on an offer, your CTA should use language that conveys what your customer will experience or receive.
The placement of your CTA is also important in getting your customer to convert on your postcard. For example, avoid sandwiching your CTA between large blocks of texts or design elements, or in places that make the CTA difficult to find. A couple of other important things to consider with your CTA include:
Make sure your CTAs are short and to the point
Consider using active language that creates a sense of urgency — for example, if your postcard incorporates a QR code that launches an informative video, your CTA could read: Scan the code now to watch the product in action
Personalizing your CTA using variable data printing (VDP) can be an effective strategy, as personalized offers can increase revenue by up to 15%
Give QR codes a go
The explosion of quick response (QR) codes in applications from event signage to coffeeshop menus has demonstrated how effective this kind of digital integration can be in creating a more meaningful connection with consumers. As an easy-to-use bridge between the print and digital worlds, QR codes give marketers an extremely popular way to extend and expand on the content of their postcard in a more dynamic way that customers find useful.
For example, QR codes that launch video content, PDFs, infographics, and even augmented reality make it easier and more fun for customers to interact with your brand, and it also better educates customers on how your product can help solve their challenges. Both of these outcomes can increase the likelihood that users will convert on your direct mail postcard.
Plus, if you have an online store or e-commerce platform, you can design a QR code that opens to a product page where the customer can add products to their cart and complete a purchase in just a matter of minutes — provided you have a strong, clear CTA at the heart of your content.
Prioritize personalization
Imagine that you could increase the efficiency of your marketing dollars by almost 30% — VDP via digital print technology gives marketers the ability to create personalized, highly targeted postcard mailing campaigns that create the kind of deep, meaningful customer experiences that drive brand recognition, loyalty, and conversions.
The challenge with personalization in print is thinking more creatively and using more granular customer information to create personalized content that goes beyond the more conventional first name, last name data fields — companies who unlock this puzzle in a responsible, strategic way are likely to experience more robust conversion rates.
Postcards that leverage customer data such as geographic location, customer lifecycle stage, purchase history, or even insights from online cart abandonment can create an authentic sense of familiarity with a company. In addition, using customer data to create personalized discount codes or exclusive offers — George, here's a special discount based on your recent purchase of X or Y product — can go a long way toward helping your customers convert on your postcard.
But this is just the start. Ready to learn more about the best practices for designing and executing an effective postcard mailing campaign? Download our new guide, How to Execute a High-ROI Postcard Campaign, to optimize your next postcard mailing campaign.