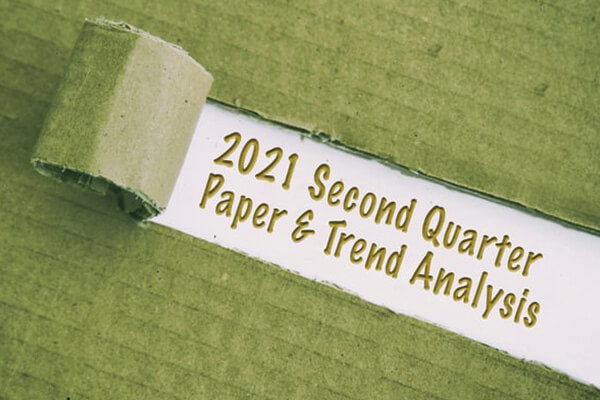 Quantum's 2021 Second Quarter Paper & Trend Analysis - Cautiously Optimistic
Spring brings rapid change, and this quarter's Q2 Outlook is no stranger to it. We will summarize the variety of challenges facing procurement in the print marketplace (surprise hint: it's just not paper!). Also in this month's report: Big wins for Quantum and myself personally as we earned 13 Great Lakes Graphics Association - Graphics Excellence Awards (GEA) contest, including multiple Best of Category and Division awards.
Finally, with a week until Earth Day, we will discuss how we're expanding our sustainability footprint by reducing our junk electronic footprint.
Mr. Print's Wild Ride
Any roller coaster enthusiast enjoys being able to see where all the sharp turns, steep drops, corkscrews, and full loops are prior to the ride. Heading into Q2, we have seen increases, surcharges, and force majeure declarations from just about every supplier we rely upon. Everything from fine paper to board; adhesives; corrugated, plastics and films. We have been affected by the winter catastrophe in Texas, ransomware attacks on a major supplier, the continued shortage of freight drivers, and the new shortage in shipping containers.
In addition, we await the fallout from the Suez Canal blockage, and, lest we forget, the busiest part of the season is yet to come.
Our Analysis:
Paper supply is going to continue to be stressed. The mills are hesitant to manufacture paper beyond what they project to be necessary to meet market demand. Additionally, I anticipate more capacity heading out of the market into brown paper. Also, converting capacity continuing to be reduced. What this tells me is that we can expect shortages and increases in the fall. The soft allocations that are already in place now, are expected to become firm allocations down the road and with the traditional third quarter push for healthcare and a projected record retail season coming, coated and uncoated inventories are going to feel the effects.
We continue to stay informed and inform. I have been spending more time talking with all our key suppliers about what they are seeing in their respective markets and how they are dealing with these situations. As global, interconnected, and "just-in-time" as our trade has become as of late, we can be sure of one thing, "what affects one industry is sure to affect others".
Our key suppliers have also been instrumental in helping us deal with the unexpected. Whether it is Midland Paper delivering expert inventory analysis and projections to make sure a strong Q3/Q4 can happen, or Sappi helping develop a paper program on their new Spectro line that fits the needs of a growing client base. We have been able to mitigate much of the uncertainty we face by employing the intellectual capital of our partners.
From the Back of the Napkin to Industry Awards
I've very proud of our team at Quantum for managing to take home 13 GLGA's Graphics Excellence Awards. Against the backdrop of 2020, the victory is a little bit sweeter. The award I am most proud of was the Wisconsin Dairy Farmer's Cheese Box. I had the privilege of witnessing the spawn of this project on a Friday morning conference call with the client, our intrepid designer Monica Grier, and a sketch on a blank piece of paper. Quite the nod to the cocktail napkin sketches of printing lore. Read more about this award on our blog page.
Get Smaller to get Bigger
Just in time for Earth Day, we will be participating locally in Morton Grove's electronics recycling event. A big thanks to John Mitchell over at the Morton Grove Public Works for allowing us to contribute to the effort. We have already got two skids of equipment eligible for recycling and I hope to double that. Tackling E-Waste is one of the many avenues toward becoming a better steward for both our clients and the community at large.
Quantum's Outlook for Q2 - 2021: Cautiously Optimistic
Make no mistake: it's not going to be easy to navigate our industry's ever-changing landscape. Leveraging loyalty and trust built through strong partnerships while continuing the march down a sustainable path will be key to getting us through the upcoming challenges while allowing us to turn those "back of the napkin" sketches into award winners for both Quantum and the clients we are proud to serve.
About the author: Paul Fillmore is Supply Chain Manager at Quantum Group and has over 20 years of printing industry experience. Paul's specialization is in sheetfed printing and he has master level experience in litho and digital print production, estimating, planning, purchasing, and process engineering.
Click here to learn more about Quantum Group's printing solutions.