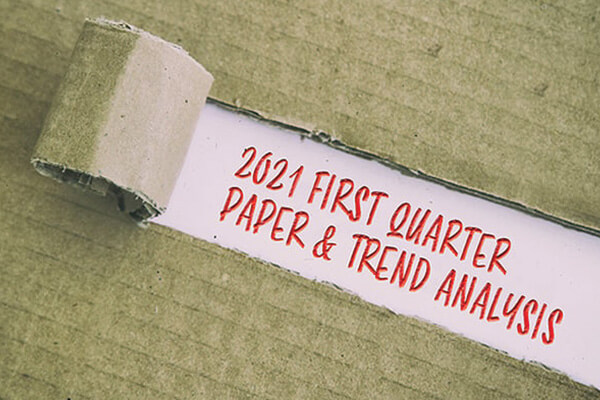 Pop the cork, it is finally 2021! It is time for our Q1 Paper and Trend Analysis. This month we will be looking at forecast revisions in the wake of the vaccine rollout and what that may mean for buyers and their supply chains. The increases we discussed in Q4 will materialize as the mills start to make pricing moves. We will look at what some intelligent folks are saying about B2B and the new role of digital. Finally, as always, I will bring you up to date on sustainability.
Breaking News: Vaccines Move Forward, Prices Go Up as Demand Pulls Back:
2020 as a year is over, but its effects will stay with us into Q1. While our nation undertakes a historic effort to deliver vaccines to the population, major industries point to a continuing lull in demand. RISI moved their forecast for expected recovery in uncoated freesheet out of the first quarter in this month's forecast.1 Of course, the mills have responded right away. Westrock announced increases to their board line, Verso announced up to an 8% increase across all their product offerings effective in March, while planning to streamline their product lines. Other offshore mills such as Metsa announced per ton increases and we expect more news to follow in real-time as we publish.
Quantum Analysis:
Expect the mills to continue operating with efficiency in mind. Dates will continue to trend toward longer rather than shorter turn time and inventories are not going to recover as fast as they usually do after the year-end clear-out. We await Sappi's response to market, along with the uncoated mills. We anticipate in the face of slack demand that they will fall in line. From the Quantum side, a few strategies can be deployed: First and foremost- talking to everybody. Starting with our clients, and looping in leadership, production, and sales. Then we work with our merchant partners. We have a few tools in the box: making strategic buys on key papers prior to the increase; reviewing current portfolios of work to see if they might be candidates to be grouped together for an incentive program; and staying on top of market inventories while looking into alternative sourcing. Converters like Case Paper often can provide smart offshore options along with custom sizing.
Everything Old Is New Again:
We are proud to report grand totals of 890 tons in recycled coated paper that moved through our four walls in 2020, along with another 332 tons in recycled uncoated paper. We have also reduced on our hand footprint in stock by 12% year over year. We are busily crunching the numbers on those metrics in order to discuss how many trees, lightbulbs, miles and number of swimming pools we managed to conserve. We have more big ideas in 2021 so make sure to come back here and see what we shake up.
Quantum's Outlook for First Quarter 2021 – Positive With Reservation:
We expect to move into recovery at a measured pace. We await the decisions our legislatures will be making as that will provide us with a better roadmap for the year. We expect the paper industry to continue to be conservative in the face of uncertain demand. We may find the mills willing to negotiate come the summertime should a price increase bite into demand more deeply than projected. We are pleased to mark down the achievements of 2020 as we continue down the road on our sustainability journey.
About the author: Paul Fillmore is Supply Chain Manager at Quantum Group and has over 20 years of printing industry experience. Paul's specialization is in sheetfed printing and he has master level experience in litho and digital print production, estimating, planning, purchasing, and process engineering.
Click here to learn more about Quantum Group's printing solutions.
source: 1: RISI Paper Trader, December 2020