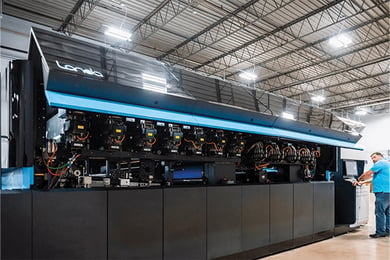 Offset. Digital. Inkjet. These are likely the kind of commercial presses you've heard of and are familiar with — in fact, odds are you've likely printed a project on one of them, which means you're probably familiar with each and the kinds of print that is ideal for each press.
But what about Nanographic Printing®? As something of a new kid on the block, nanographic printing technology is the latest evolution of the digital press. And as such, it presents some truly game-changing possibilities for personalized, print-on-demand mailing and fulfillment services.
However, to make the most of what nanographic printing has to offer, you first have to understand what it is and how it can help marketers discover a faster, more efficient, and more sustainable way to execute their print marketing and communication materials.
What does nanographic printing mean?
Nanographic printing — also referred to as nanography — is a digital print technology developed by Landa Digital Printing. Designed using the principles of nanotechnology, nanographic printing uses ultra-small particles of ink to consistently produce extremely round dots with super-sharp edges, high optical uniformity, and consistent density.
During printing, ultra-small particles of wet ink are jetted onto a conveyor blanket. The ink droplets are then dried on that blanket, and the dry image is then transferred to the paper. Nanographic printing uses its own specially formulated ink called NanoInk®, which enables precise, efficient low ink lay-down. Once on the paper, NanoInk is just .5 microns thick, less than half the thickness of offset ink images.
Aside from print consistency, precision, and stunning quality, nanographic printing is also defined by the ability to print on any off-the-shelf substrate, whether it's coated or uncoated, glossy or matte, without the need for any pretreatment.
What are the benefits of nanographic printing?
Nanographic printing technology provides a number of important benefits for executing commercial print in a marketplace where speed, variability, and quality are not just prized, but essential to harness the power of what print has to offer. Nanographic printing helps marketers:
Print faster and more efficiently: Nanographic presses can print 6,500 single-sided sheets per hour and 3,250 double-sided sheets per hour. In addition, nanographic presses can print jobs in collated order and produce high-quality prints on any substrate from 2.4 to 24pt without the need for any pretreatment.
Better adapt to substrate availability: Nanographic printing's ability to print on any off-the-shelf substrate helps you better respond to paper availability issues. The capability to print on any media enables a more flexible approach to designing and printing projects while preventing wasted time, money, and resources.
Power their print with personalization: As a digital print technology, nanographic printing harnesses the power of variable data printing (VDP) to help companies create personalized, highly targeted print and marketing materials. With more than 84% of millennials signaling they're more likely to open direct mail if it's personalized, it's clear this kind of data-driven print is an important tool to drive response from your audience.
Create a more sustainable print model: It's no secret that sustainability is a crucial conversation — a recent report revealed 80% of companies now report on their sustainability efforts. The ability to print on any substrate includes recycled paper and paperboard, which helps decrease your carbon footprint and reduce stress on our nation's landfills. Plus, NanoInk colorants are supplied as concentrates and mixed with water onsite, which avoids the unnecessary shipping of water.
Why partner with Quantum Group for your nanographic printing needs?
For the last 30 years, Quantum Group has continually made strategic investments in print technologies. We strive to provide our customers with the highest quality print work, at the fastest speed and with the lowest environmental impact. We believe the development of nanographic printing is just one of those technologies, which is why we've invested in the Landa S10P Nanographic Printing Press.
With the S10P, we can create stunning color quality and range on any off-the-shelf substrate — coated or uncoated, film or plastic — with no pretreatment required, and we can essentially execute any print project in a quick, cost-effective, and sustainable manner.
Plus, the Landa complements our extensive line of digital and offset presses, and it will also allow us to grow and expand the scope and scale of work we can help our customers create. Data-driven print technology that can create personalized, targeted messaging at rapid speeds has arrived.
Learn more about Quantum Group's commercial print services, and how nanographic printing is helping us achieve the next level of speed, quality, personalization, and sustainability.