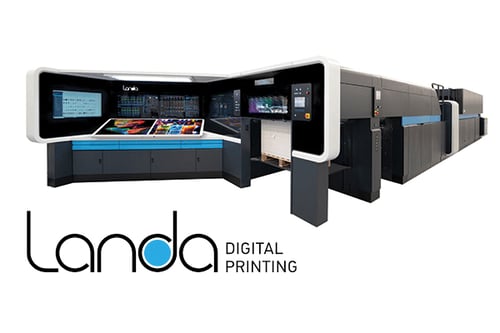 The world of commercial print is constantly changing and evolving. The last 30 years have seen massive leaps in print technology, from digital and inkjet presses that can achieve the same quality as offset to robotics and advanced automation, and Quantum Group makes strategic investments in these print technologies to provide our customers with the highest quality print work, at the fastest speed and with the lowest environmental impact.
Now, a new evolution in digital presses has arrived in the form of nanographic printing technology, also known as nanography, and we are thrilled to make a major investment in the future of digital printing by adding the Landa S10P Nanographic® Printing Press to our diverse fleet of offset and digital presses.
Our investment in this technology presents some game-changing possibilities for personalized, print-on-demand mailing and fulfillment services. If this is your first introduction to Landa and its revolutionary nanographic technology, let me give you a little preview of how and why nanographic printing works, and why we've invested in this press to help our clients achieve their marketing goals in 2023 and beyond.
What is nanographic printing, and how does it work?
Nanographic printing is a digital print technology developed by Landa that produces stunning images of unparalleled color range on any coated or uncoated paper with the fastest turnaround on the market today.
The Landa S10P Nanographic Printing Press is a B1-format (41 in. /1,050 mm) digital press that powers the printing of jobs in collated order and can produce high-quality prints on any off-the-shelf substrate, from 2.4 to 24pt — with no pretreatment required.
In addition, the Landa S10P offers the ultimate in efficient production, printing 6,500 single-sided sheets per hour and 3,250 double-sided sheets per hour. In addition to its high speeds, the press also offers the industry's broadest color gamut, covering 96% of Pantone colors.
The technology behind Landa NanoInk® enables precise, efficient low ink lay-down, which produces extremely round dots with super-sharp edges, high optical uniformity, and consistent density. This means that NanoInk on paper is just .5 microns thick, less than half the thickness of offset ink images.
What's more, NanoInk colorants are supplied as concentrates and are mixed with water onsite, which avoids unnecessary shipping of water, saving space and weight and reducing the impact on our planet. If you know Quantum, you know we're committed to leaving our environment in a better place than we found it, and the use of NanoInk technology reduces our carbon footprint and creates a more sustainable way of doing business.
What does the Landa nanographic press mean for you?
Whenever we face a big decision here at Quantum Group, we ask ourselves three questions: "Is it good for the customer? Is it good for the company? Is it the right thing to do?" When it comes to our recent press investments, our guts told us yes on all three.
We support customers in a variety of industries including pharmaceutical, healthcare, retail, and insurance, and these industries share a common challenge with their print communications strategies: they need to be able to execute highly personalized, on-demand print and marketing fulfillment with extremely tight turnaround windows.
Plus, we're seeing astounding growth in print marketing volumes from clients in these industries. By way of example, the direct mail portion of our business saw about 30 million pieces printed and mailed in 2019, and we hit about 200 million pieces in 2022. This year's volume will likely build on that of 2022.
To meet this need, we significantly increased our capacity by installing a Canon ProStream 1800 about a year ago. Now, the addition of the Landa S10P will help us deliver to our customers more of what they need: speed, variability and quality.
Because the S10P helps us create stunning color quality and range on any off-the-shelf substrate — coated or uncoated, film or plastic — with no pretreatment required, we can essentially execute any print project in a quick, cost-effective, and sustainable manner. Plus, the Landa complements our extensive line of digital and offset presses, and it will also allow us to grow and expand the scope and scale of work we can help our customers create.
The future of commercial printing is data-driven, digital print technology that can create personalized, highly targeted messaging at rapid speeds and in a flexible manner, adjusting to market fluctuations or user needs at a moment's notice. I'm confident that the strategic press investments Quantum Group has made will enable us to exceed our customers' expectations, providing not just print on demand but true marketing on demand.
Learn more about Quantum Group's commercial print services and how we are achieving the next level of speed, quality, personalization, and sustainability.