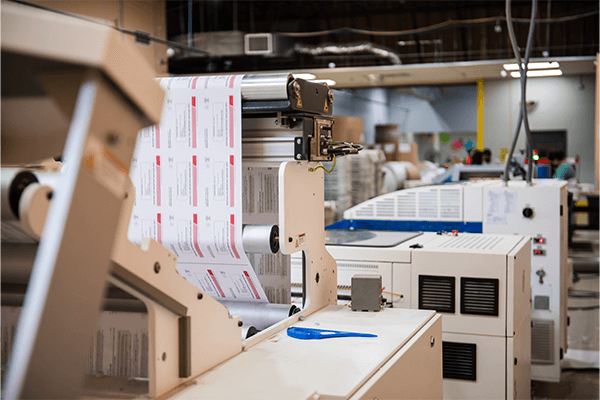 Even with the growth of paperless or digital banking services, print communications still have a large part to play in how financial service providers engage with current customers and attract new customers. In fact, more than 50% of banks and credit unions expect their print volumes to remain the same in the near future.
With the value of print firmly understood, the challenge for financial service providers is leveraging efficient print solutions that increase speed-to-market and result in personalized, highly targeted pieces that can effectively engage consumers. Plus, the elevated level of regulatory compliance in the financial services space requires safe, secure print solutions that prioritize the protection of customer information.
Automated print programs can help financial service providers reach more targeted audiences in faster, more productive ways. Here, we'll look at a couple of specific ways a print automation solution can help brands in the financial services industry execute print communications that optimize their spend and provide a meaningful ROI.
Automated print helps you use the power of direct mail to increase digital engagement
The ability to connect with your target audience across multiple channels is key for financial service providers to differentiate themselves from the competition. While digital communication channels like email marketing or social media campaigns engage with today's customers in the mediums they most frequent, the power of direct mail marketing should not be underestimated — in fact, about 7 out of 10 consumers trust print communications like direct mail more than any other form of messaging.
The ability to nurture digital leads and increase online engagement with personalized, targeted direct mail is where things can get really interesting for financial service providers, and adopting an automated print approach to these kinds of mailings can make it happen.
Imagine a potential customer is browsing a landing page about retirement savings accounts. They fill out a form to request more information about opening an account, and by doing so provide their contact information and some insight as to what they're looking for in such an account.
Along with a standard follow-up email, an automated print solution can help you use these insights to print a personalized brochure that includes customer testimonials, a breakdown of different savings plans, or exclusive offers if they open an account.
This helps create a multichannel approach that leverages the power of print to help consumers better retain and recall information about products and services — and help increase your conversion rates. Plus, based on the level of digital engagement, a print automation solution can help you print more high-value mailers designed for those toward the bottom of the sales funnel.
For instance, you could print a personalized direct mail postcard using a heavier paper stock that mimics the look and feel of a credit card that offers a $250 gift card for those who are approved for a new credit card. Working with a print automation expert like Quantum can help you create these kinds of dynamic mailings that are designed to drive conversions.
Automated print accelerates your ability to get critical communications in the hands of your customers
When printing critical communications like invoices, account summaries, explanations of benefits (EOBs), or updated terms and conditions of use, time is of the essence. These documents need to be printed quickly in order to comply with a variety of governmental regulations, and to establish and nurture consumer confidence and trust.
What's more, these kinds of communications need to be printed in large quantities on a regular basis, which requires a high level of operational efficiency to maximize your investment in this kind of print.
A print automation solution can integrate with your customer relationship management (CRM) or enterprise resource planning (ERP) system to create personalized, data-driven print using multiple data streams. Plus, the digital nature of a print automation solution makes it possible to execute several jobs simultaneously on a 24/7 basis. Automated print also leverages on-demand technology to print custom pieces based on customer milestones or behaviors.
For example, a print automation solution makes it possible to print a personalized letter that congratulates an existing customer on paying off a car loan by positioning a special loan rate if they upgrade their vehicle. This allows your critical communications to function as a piece of marketing and sales collateral in order to further enhance your print marketing ROI.
Here's an example of how we leveraged print automation and our expertise as a strategic print partner to help a financial services provider print customer communications that achieved 99% accuracy quickly and efficiently.
With a long history as a strategic print partner, Quantum can help you harness the power and flexibility of print automation to create targeted print materials that reach your audience faster and in a more strategic way. Learn more about our print automation solutions.