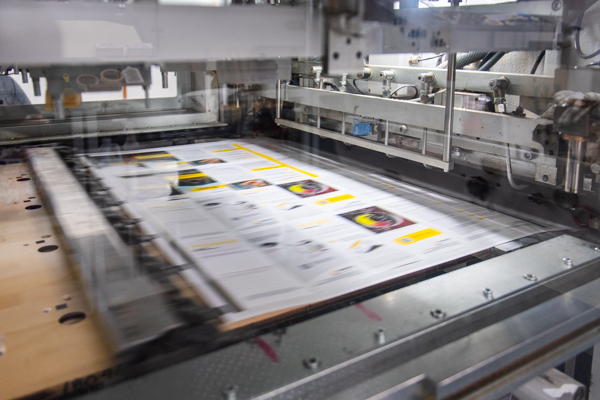 For today's average consumer, engaging with brands in a single-channel format is simply not enough to move them through the sales funnel. In fact, research shows that consumers engage with brands on at least three channels before they decide to purchase a product or service. This means companies must think in a more multi-channel way when conceptualizing sales and marketing campaigns in order to create as many touch points.
Print can be a vital component in effective multi-channel campaigns, in large part due to the value and trust consumers place in print marketing materials. For example, a recent survey found that 70% of consumers trust print — including communications like direct mail — more than any other medium.
The challenge for brands is knowing the best way to leverage print as the prime driver of a multi-channel approach, as well as identifying the right kind of print technology to execute successful multi-channel campaigns. Here, we'll look at a couple of ways print automation can help you create effective multi-channel sales and marketing campaigns that grow your business.
Printing automation can harness a data-driven approach to print based on customer actions
One of the more valuable elements of print automation in executing multi-channel campaigns is the ability to create high-quality print materials using insights from your customer relationship management (CRM) platform. Pieces that range from simple postcards to high-value pieces like dimensional mailers can be printed in real time using on-demand print technology when triggered by your CRM. These triggers can range from customer loyalty milestones like a repurchase to prospects converting on a landing page offer for the first time.
For example, imagine your ideal customer visits your website and registers for an online store account. Aside from a confirmation email that prompts them to browse products and make a purchase, a print automation solution can use on-demand print technology to create a personalized brochure or catalog with a special welcome offer that positions specific products they may be interested in.
Plus, print automation allows you to print a dynamic quick response (QR) code on the brochure that makes it easy for your audience to access the online store. Or, this dynamic code can open other kinds of content like videos or landing pages that you regularly update to provide fresh, relevant content.
Print automation also allows you to execute several different print jobs on a 24/7 basis using different streams of data. This simplifies the process of facilitating multiple campaigns and touch points at any given time, and it also helps accelerate the process of getting print into the hands of your ideal customer.
Print automation can help you take a more account-based approach to multi-channel campaigns
Account-based marketing (ABM) campaigns are becoming increasingly popular — and effective — for brands across a variety of industries. A recent report showed that 67% of brands leverage an account-based marketing approach, and print automation can be a vital tool in helping to facilitate multi-channel campaigns that go the account-based route.
In order to be successful, ABM campaigns require a clean, up-to-date CRM with accurate customer data, and partnering with a strategic print expert can help you better understand the landscape of your CRM, and what actions you need to take to ensure you have the right customer data at your fingertips.
Using this data, a print automation solution can use variable data and images to print personalized, high-value pieces that prompt your target audience to download an app, explore an online tool, or book a meeting with your sales team. Then, once the desired action is taken, an automated print system can use the additional data gathered to print timely, personalized marketing collateral that helps continue the conversation, or move the contact through the sales funnel.
What's more, an automated print solution that is integrated with your CRM can provide important performance metrics on the digital components of your ABM campaign, including QR code scans, landing page views, online store views, and more. These insights can help you better understand the kind of messaging or content your audience is most receptive to, and this can prove valuable when creating subsequent print sales and marketing materials down the road.
With a print automation solution, brands can more effectively and efficiently print targeted, high-quality materials that bridge the print and digital worlds for a more multi-channel marketing approach. As a strategic print partner with years of field-proven experience, we can help you leverage the power of automated print to create multi-channel campaigns that get results.
Learn more about our print automation solutions.